Atlantic Farm Mechanization Show Inc.
---
The Board of Directors are pleased to report that Farm Credit Canada will continue to be the Show Presenting Sponsor for 2022, 2024 and 2026.
---
Annual Meeting Highlights: Annual Meeting was held at the Cambridge Suites, Halifax, NS on August 23 & 24, 2019.
Brian Beaton was re-elected as Chairman. Greg Burns was elected as Vice-Chairman and David Dykstra was elected as Treasurer. Chuck Everett previous Treasurer and a past Director has resigned after a long tenure with the AFM Show.
The Board of Directors of the AFM Show have contracted Frank Reade as Show Manager for the 2019 and 2021 Shows.
---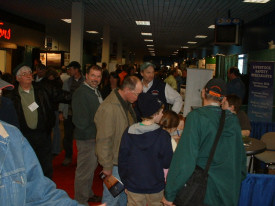 List of Officers and Directors: Brian Beaton, NB-Chairman, Greg Burns. NS-Vice-Chairman, David Dykstra, NB-Treasurer, Directors: Peter Swinkels, NS, Brock Proudfoot, NS, James McIver, PE, David Francis, PE, Arnold Beyer, NB
Show Manager/Organizer, Frank Reade
Exhibitors and Visitors: The Board would welcome any comments that would assist the Directors and organizers in improving or enhancing the show in any way. Post your comments by email at info@farmmechshow.com. We value your input and welcome any comments; after all, this is your show! Thank you.
Future Show Dates:

2024 - November 28, 29, 30
2026 - November 19, 20, 21
2028 - November 30, December 1, 2